Post by Stinger on Jul 10, 2010 1:07:02 GMT -5
Verify Commanded = Actual Timing
When messing with the timing table, the first priority is to make sure what is commanded on the laptop is the same as the timing number at the engine.
In TunerStudio, go to basic setup > more ignition options > fixed advance and change it from "use table" to "fixed timing". Then make sure "timing for fixed advance is set to 20". This will lock the commanded timing at 20 degrees. With the engine running, put a timing light on the #1 plug wire and point it at the crank pulley. Verify that timing is at 20 degrees BTDC. If it isn't, rotate the distributor until the timing is 20 degrees BTDC. Tighten up the distributor hold down, verify timing is still 20 degrees, then go into the same location in TunerStudio and put it back to "use table".
Ideal Timing Theory
Timing is somewhat difficult to explain, way more difficult than fuel. Ideal timing varies from engine to engine for a number of different reasons.
The only proper way to find ideal timing for your particular engine is to put it on a dyno and start testing. When testing on a dyno, you start with timing below where you think "ideal" is and make a pull, add a degree, make another pull. If you picked up significant power on the second pull (6+hp) then add another degree and make another pull. Continue this trend until you get to a point where the hp gain tapers off (only gain a few hp). Remove 2 degrees from this point and that should be a "safe" timing value.
Since most of you will never get on a dyno to do tuning, your best bet is to simply start with a timing map that should be close but conservative (safe) and just use it. If you do testing at the track and find adding a degree or two picks up trap speed then that is great. If you don't gain any mph though, adding timing will only hurt the engine.
The general theory is timing under vacuum can be quite high and will let it cruise around and drive down the highway best with quite a bit of timing to get these little engines to make some power without boost. Once you are running boost, you want timing to be lowest at the rpm where you first reach max boost and then it can slowly increase as rpm increases (going right in the table). You also want timing to decrease as you move up in the table under boost (more boost requires less timing to prevent detonation). So in general, once in boost (above 100% fuel and at an rpm high enough to build boost), the timing numbers will get lower as you move up and higher as you move right.
Idle Timing
Note that the table below has increased timing to the left of the idle cells. This is so if the engine bogs and tries to die when you put it in gear, release the clutch, etc., it will get into those cells with increased timing and this will increase the hp and help to keep the engine from stalling.
Generally there is some amount of "stall saver" timing built into any file you get from us. More can certainly be beneficial. To adjust this, at your target idle speed (typically in the 950-1000 range with a 2.3 or large cam V8) you run purposefully less than ideal timing. I would set the bin the car is actually idling at in this range to about 15 degrees with a factory cam, or 20 with a larger cam. This will require increased idle duty to get the car to idle.
Then in the next rpm column below idle speed (and "up" one cell in terms of load % as well), run a solid 4-5 degrees more timing. This way, if speed drops, the extra timing (which is actually closer to the ideal timing for that set of conditions) will force the engine to accelerate. The idle will also be more stable with the increased airflow/low timing.
With idle timing, engines are always more stable with more airflow, and less timing. When you use close to optimum timing, the engine will be more responsive (which is not necessarily what you want if you don't want speed to change).
The above assumes your wideband is calibrated properly, and the idle fueling (covered in the Tuning Fuel/VE thread) and commanded pulsewidths are reasonable.
The timing table many of you get by default with your Megasquirt system is WAY too aggressive and doesn't follow the timing basics (such as that timing can increase as rpm increases and that timing is lowest when max boost is first reached). My advice would be to start with something similar to what is shown below: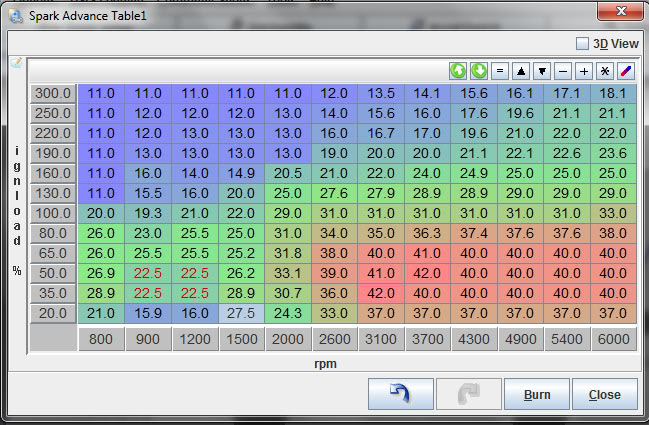 Here is a good reference for understanding why engines like/need different timing under different conditions:
autospeed.com.au/cms/A_109132/article.html