Post by Stinger on Aug 14, 2013 1:16:35 GMT -5
Bore finish, Ring Gap, & Ring Installation for our CP pistons with Gas Nitrided rings is here:
www.stinger-performance.com/Pics/cp_instructionsheet.pdf
Specifically:
GAS NITRIDED, CPN, CPN2 AND R8GNHD PISTON RINGS
To identify a gas nitrided top ring the entire ring will be a light gray. These instructions must be followed for maximum ring seal. A torque plate must be used unless the bolt holes are not part of the cylinder. The first stone is a 525 (220 grit) stone, done until there is .001" left from final bore. The bore must be round to .0002", checked 360 degrees from the bottom to the top of the bore. Then switch to a 625 (280 grit) stone, 50% load until .0002" is left from final bore. Then use the 625 stone at 20% load to final bore size.
ALL RINGS
The honing must be done slow to minimize heat build-up. No hand honing. Final bore needs to be less than plus or minus .0002" out of round,
checked 360 degrees around the bore from the bottom to the top of the cylinder. This should be checked with a dial bore gauge. The expertise of
your machine shop is critical to the proper finish on your block bore. When you receive the block back from the machine shop it will appear clean,
the block still needs to be cleaned. There could be material trapped in the honing grooves of the block that are not visible. Failure to clean the block could lead to premature ring wear and blow-by.
For use with our CPN and CPN2 piston rings, we recommend plateau honing with a cylinder bore cross hatch angle of 30-40 degrees.

30-40 degrees
To reach this roughness, the manufacturers of honing machines and accessories recommend using for a gray cast iron engine block and Nikasil cylinders.
• Conventional stones #220 - #280 grit or
• Diamond stones #325 - #550 grit
After honing with either the conventional or diamond stone, the same manufacturers suggest to finish your honing by smoothing the surface with a fine grit conventional abrasive (#400 - #600 grit) or to sweep the bores with a flexible brush or a nylon bristle plateau honing tool. This is necessary to get rid of jagged peaks and folded or torn material.

Important Note:
Be sure to confirm with your honing equipment manufacturer that the recommended stone grit will produce the following Rz and Ra roughness recommendations.
Rz = 59 - 138 µ in [=1.5 – 3.5 µm] or
Ra = 15 - 35 µ in [=0.4 – 0.9 µm]
RING GAP:
CP recommends a turbo/nitrous top ring gap of .0055" x (bore size in inches). Example for a 2.3T: .0055 x 3.800 = .0209". Since 2.3T's run higher boost than most engines, CP recommends a bit larger than normal ring gap for 2.3T's that run high boost. They suggest .024" on the upper ring and .030 on second ring for a typical 2.3 bore size (.010 to .030" overbore).
RING ORIENTATION: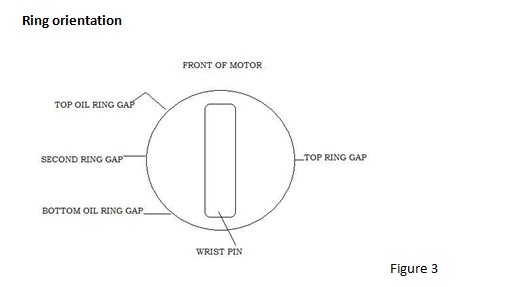 CP PISTON/RING FAQ:
www.cp-carrillo.com/Tech/FAQ/tabid/107/Default.aspx
PDF Version of info:
www.cp-carrillo.com/files/1-Landing%20Pages/Hardware/pdfs/cpcylinderhoning.pdf
www.cp-carrillo.com/ft-2468-rings.html